March 12th was on of my favorite days on tour. We had a blast the night before in PHX. Stayed up until 5 or 6 in the morning. Roman, Katie and the PHX crew showed us a great time. There were 5 cases of beer, 2 handles of vodka, one bitchin bonfire, and plenty of grass to go around. We were warned not travel down to Highway 8, and to avoid Yuma, Az at all cost. I guess ANS had some issues down there last year, which led to their singer being incarcerated. I had been through Yuma with VPR in 2006 and I found that town was full of tweekers and trailers. So we took 10 to 78. 78 was a stretch of road that connected 10 and 8, down the border of California and New Mexico. This was an incredible drive, I even got behind the wheel for a while, as you can see. Along 78 we discovered that our show with San Diego's the Widows had been canceled. For those of you that are unaware the Widows are San Diego's lone rock experience. Well we sorta lucked out cause we got thrown on another show. Unfortunately it was with some up tempo stooges, but a show is a show. We cruised down to Washington Street Skate Park after the show.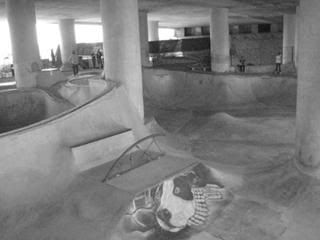 I was beat. I was on three hours of sleep. We arrived to WSVT and I curled up into a ball in the back of the bus. Everyone else with exception of Cory slept in the back bowl of Washington Street. It was kind of ironic that the Enterprise Car dealership that VPR rented from was across the street from the park. I had kinda been there before. Scully lived/ worked on Washington Street last year. It was really cool to be embed ed in something that meant alot to him. It meant alot to me to have the Rowdy Ones play Saturn Bar, and see the house I lived in down in New Orleans. Unfortunately my camera was dead the whole time we were at WSVT, but I lent Cory my extra SD card, so I grabed a few flicks with his camera.
Dan, Cory, and myself was to get BBQ supplies and went to town. There is a great grill set up at WSVT, lots of details like mosaic tiles and stone skulls. The whole place is a trip. Not that I know anything about skateparks, but this has to be the greatest one in the world. It is difficult to skate(I know, I tried) there is amazing art work adorning the walls and gates, and like I said, what grill set up. It reminded me of being in Florence and being in awe of the Duomo(the world largest free standing Dome). WSVT is certainly a must see from then most harden skater to anyone that appreciates independent art.
Like I said earlier my camera battery was dead, and as amazing that WSVT is, they have no electric. We shot down to Snatch Park, which was another independently built skate park. It is located behind the football stadium, underneath a highway. Not as developed at Washington street, no transitions. It's more of a street park with various quarters, boxes and rails. Alot more private than WSVT. It is important to note that our transmission was on it's last legs at this point. We had been pumping fluid into it as fast as it leaked out. We beat the shit outa that thing. By the time we made it through the desert our trany was begging for mercy. It sounded like we had a family of dolphins living below us. We really lucked out that we did not get stuck on 78 or something. The first night we got to San Diego the bus would not budge from in front of the club. It took a bunch of us pushing it until it found it's gear. We made it to the show that night with Tipper's Gore and Gross Negligence, two incredible bands. The venue was an old hotel, converted into an all in one music shop/ school and recording studio.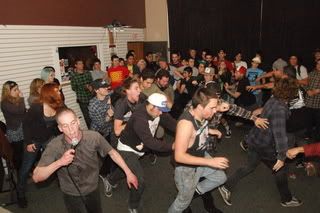 I had never seen a crowd reaction like this for the Rowdy Ones. Granted a dozen or so people at this show were skaters that were buddies with Scully, there were plenty of other kids who weren't that still went off. This circle pit lasted for two songs, and it was as intense as a pit could get. There were some real meat heads joking out.
Julio's(Gross Negligence) 1964 or 5 Mercury Comet.
Our bus did not want to leave the venue, but eventually we hit the road and headed straight to Ocean Beach, on the eve of my birthday. We made it(barley) to a service station, I grabbed my Mexican blanket and the crew went to the Pacific Ocean. I had some home grown stuff from PHX that I had saved for the ocean. I walked barefoot the the water and blessed my self with the sign of the cross, we fucking made it. That fucking bus made it to the Pacific Ocean. Scully decided that sleeping on the beach was not the way to go, so we walked to his friends house and knocked on the door at 2 in the morning. No was home. So we did the most logical thing, we slept in the backyard. I slept underneath a trampoline. If I knew we weren't gonna get fucked with, I would have slept on the trampoline. Again I am omitting some really funny details, I'll let Scully tell you all about it when he releases his tour journal.
After I did my laundry, and ate 5 rolled tacos for $3.75, I found out that the service station we stopped at refused to service our transmission. Said that their garage wasn't big enough to handle our bus. Keep in mind it took alot of convincing to get our van to drive at this point, and as we tried to move the bus we met this man. The most pissed off old man in San Diego.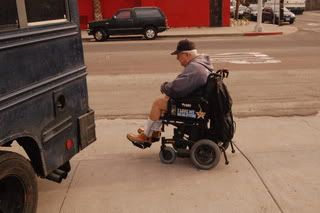 One of his bumper stickers proclaims that he "Loves his bad ass attitude". He was pissed because our bus was partially blocking the sidewalk, not that he couldn't get around, he just wanted someone to yell at. We called him an asshole, then he said that he was a bigger asshole than the four of us standing there. When I went to take a picture of him wagging his finger at us, he busted outta there like he had a 426 Hemi in his motorized wheelchair. Everyone in California is a speed freak, even the handicapped.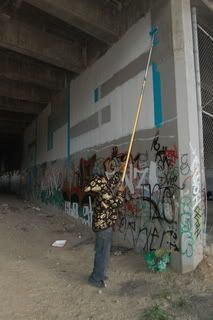 Roll job next door to the Snatch Park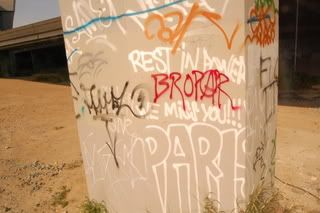 Getting up in San Diego(Editorial note, my birthday was cool. I may not have gotten laid, I may have been filthy, I didn't even make it to Oki Dogs in LA, but so far I was at a beach, slept outside, saw some cool cars, skated, tagged a wall, saw a killer show, sold some merch, I hope every other birthday can be as cool)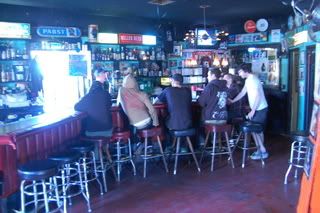 We went to the famous Tower Bar for .25 cent wings. I drank an Olympia for the first time, it was great. The wings were being deep fried on the tail gate of a pickup truck. The bartender had a hard time cooking them or something, we spent a while there and only two orders of wings came out, at this point it was time to go, or we were gonna be really late. Long story short we could not find the venue. At this point we could barley reach 20 mph, Scully puts me in the navigator chair and says "Mattitude, you're in charge". I decide that we should go to Oki Dogs then maybe rest up at my friends apartment in Burbank. No such luck. At 10:20 pm March 14th 2009 the bus died on the 5. Alex(Scully's buddy from S.D. who joined the tour)called AAA but we were too big for a tow. Some California Highway Patrol cops had mercy on us and pushed us off the highway to a gas station. It was scary as shit, hitting that ramp at 40 mph, the whole time the cops are on the PA telling us to stay off the wall. As we started to push the van into a parking space I noticed Pickle Buckets(Dan) had a following. He found some hippies smoking weed at the gas station. We proceeded to party down with them, and we planned a mission to Huntington Beach for the. Figured it would be a great opportunity to sell merch.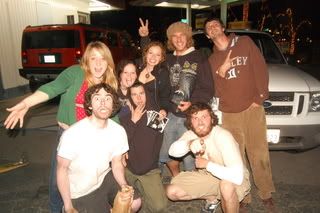 We partied into the wee hours at the gas station. The guy behind the register was real cool with us hanging out. Dan, Jimmy and myself slept behind a pickup truck. It took a little convincing Dan, he thought some some would drive off in the middle of the night and crush our legs. The tires were kinda flat, so I figured we were cool.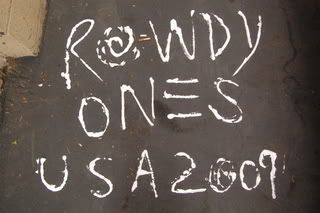 This is where I slept the night of my birthday.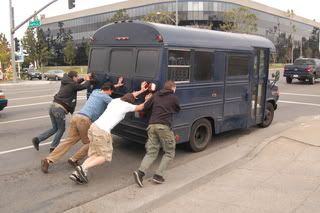 In the morning our surfer hippie buddies returned. We pushed the bus to the transmission shop. After wards we took of to HB and panhandled/ sold merch. I made plans to get picked up by my buddy Jimmy. He came at the end of the day we took Logan to the airport and I rested in a "comfy" apartment that night. I spent the last week building a website for my friends girl, the Rowdy Ones have been busy raising money for a rental van. So at the moment the tour hangs in the balance.
"Whatever happens, happens" Two Man Advantage